Basic Character Info
Name: Kensei Junsei Yuukai
Age: 835
Visual Age: 20
Gender: male
Ex-Division: 3rd
Appearance:
Spoiler:
Personality: He is calm in any situation, yet can be hyper and his personality changes often. There is one key thing about him though, He is completely insane and random, however he doesnt cause harm to those that dont offend him, which is likely why he hasn't joined in the arrancar/shinigami war. He is talkitive and when he gets angry he becomes silent and destructive, giving up his other personality traits for anger and hatred, but as soon as he is done he turns back to normal.
Background/RP Sample
Background: In his life he was a royal guard for Emporer Xiànzōng. The Emporer had heard of an Island said to be peaceful and decided to see it for himself. He traveled east, landing in japan with his five bodyguards. They were attacked by bandits and the other four body guards died, one of wounds, and the rest in the fight. Desperate for help The emporer and he went to the nearest town and searched for a ship, luckily the town was also a port, so they found it rather quick. They left heading back to china, when the emporer betrayed him, because he thought he was going to assasinate him. A small army of twenty attacked him, all of the samurai. Now he wasnt the Emporer's body guard for nothing as he was able to take down ten of them but eventually got too tired to keep fighting. He knew he had only one chance and jumped overboard.
He was found by a woman on a small island and rescued. He eventually woke up and mistook her for an angel. They were eventually wed and happy, but the emporer, trying not to have lose ends, captured and killed his new wife, luring him out. The emporer had fifteen samurai, he guessed the ruler of Japan was friends with Xiànzōng and didnt think much of it. He took most of them down easily but fell to a stab wound in his left lung. He saw his own body and knew he was dead. He walked around and started seeing giant demons. He attacked them and killed a few, before a man in a black robe with a katana found him and hit him on the head with the back of his katana.
(since i know nothing about the academy of shinigami im gonna skip that)
Many years later he had became a shinigami in Squad 3, slowly rising in the ranks. His Zanpaktou was different than most since it wasnt a katana, but a broadsword. Instead of putting it on his side he put it on his back. He ended up befriending Aizen, Shinji, and Gin, but never liked tosen He was tested on by Aizen, and was told never to tell, which he didnt care about. He was eventually the third seat in his squad but then the incident about Aizen happened and he left with him, but instead of going to huece mundo, he went to the real world with the others that were tested on by Aizen. He discovered his hollow inside and went inside his mind to deal with it. He was lucky he dealt with it that early otherwise it wouldnt have ended so easily. While his hollow had alot of Reiatsu it was dwarfed imensely by his. However he learned his mask had certian powers that others didnt.
Aizen found him and made a garganta to bring him to him, he told him he would be the first vizard/arrancar crossbreed, a being of unimaginable power, and used the hogyokyu to do it. afterwards aizen and him became a bit closer, and he and gin became great friends, probably due to their insanity. He was pronounced cero espada. He abandoned Espada later on, and tried raising a team to kill aizen, knowing he was not strong enough yet to kill him himself. He was working on his anti-illusions technique. He raised Shikyo Tenkai by himself, and the orginization was going well, he found many friends in the human world and even Soul Society, and on a few occasions he was able to visit Hueco Mundo without aizen trying to kill him. Once Kensei got back to the human world he noticed his orginization was left alone, with hardly anyone left in it. He broke it apart and told them that if they needed to use the underground area where it was located it would be fine.
Then the ultimate event that changed kensei happened, his best friend was killed and gave him his eye. While at first Kensei thought it was just because he had shitty vision, it was actually because his friend's eye had powers. Kensei unlocked these powers and learned he could see through illusions, and other things.
RP Sample: (A sample of how you RP,if you want to be a Vaizard Commander, if not delete this.)
Zanpakutō Information
Name: Shekkeikegan
Release Phrase: Burn
Element/Family: Fire, Lightning
Manifestation: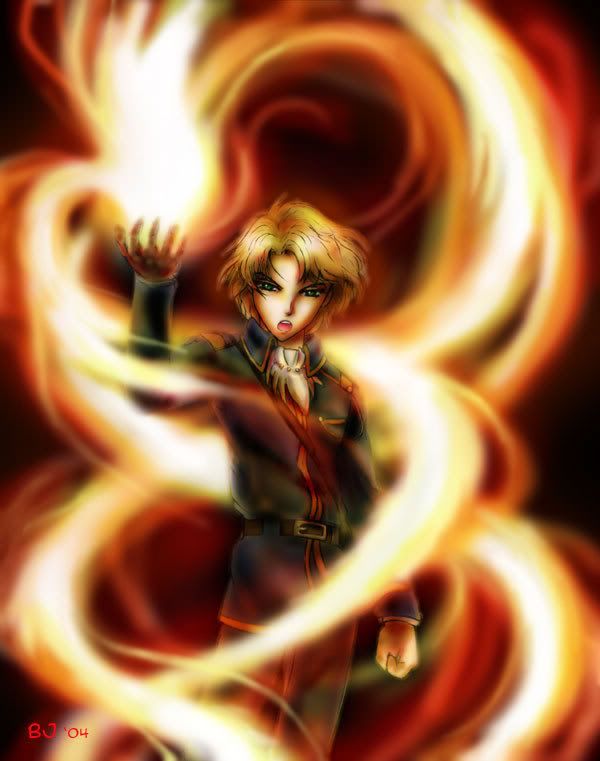 Sealed Zanpakuto:
Shikai:
Shikai Ability:Kensei can control fire, and lightning but by controling it he makes it weaker and slower, and he cannot make it. This also grants him a passive resistance to heat and fire, and shock
[Bankai applies only for Captains, Advanced Vice Captains and Elite Vaizards]
Bankai:
Bankai Ability: Kensei can make fire near him and completely control it to the extent of making it into solid weapons or sheilds. Also grants him a passive immunity to fire and heat, and an even greater control of lightning, along with a much higher resistance
Innate Ability
Name: Memory bank
Description: With this one cannot lose their memory, even when transfering death states, such as a human becoming a shinigami, they will not forget their life, with litteraly inifinte memory, this is due to the fact that Kensei's brain cells regenerate, and evole, making his memory perfect and infinite.
Hollow Mask
Name: Kurohime
Manifestation:
Ability:
Telekinesis: Vizard apparently hold varying degrees of telekinesis; For example, Ichigo, in his new Hollowfied form, has employed this ability to call forth his Zanpakutō with a mere flick of the wrist.
High-Speed Regeneration is the ability that allows a Hollow to heal most injuries very quickly, with the exception of the destruction of the head or vital organs. Only Menos-class Hollows have demonstrated this ability
Enhanced Speed
Enhanced Spiritual Power
Enhanced Stamina
Enhanced Strength
Cero
: Vizard gain access to certain Hollow abilities, such as the
Cero
blast; However, only Shinji, Hiyori and Mashiro have been seen using it.
Power Augmentation
: With the acquisition of the mask through the subjugation of one's inner Hollow, Vizard gain access to an additional and separate source of power - aside from the Shinigami powers they already possess - Hollow powers. The accumulation of both powers greatly augments their powers beyond what a Shinigami and/or Hollow alone would be capable of.
Mask Protection
: Body damage can seemingly be ignored while wearing their masks, as demonstrated by Ichigo's Hollow during his unwilling transformations.
Reiryoku Enhancement
: Vizard have dual spiritual power of both Shinigami and Hollow, which enhances their abilities.
Hollow Mask Appearance:
Duration/Cooldown: 8/10
Resurreccion Information
Name: Dekadana
Release Phrase: Die
Element/Family: Shadow/Dark, Reiatsu, Void
Represent: Death
Sealed Resurreccion: a normal dagger
Released Resurreccion:
Spoiler:
Resurreccion Special Ability: While using Resurection Kensei cannot bleed, and doesnt feel pain, while still having his shikai or bankai
Techniques
Technique
: Sharingan
Spoiler:
Usage
: Passive
Cool Down
: Passive
Technique
: Izanami
Spoiler:
Usage
: Permanent but one person can only be revived once
Cool Down
: One month (in real life one month)
Technique
: Inari
Spoiler:
Usage
: Lasts until changed back
Cool Down
: Two posts
Technique
: Raiden
Spoiler:
Usage
: Five Posts
Cool Down
: Ten Posts
Technique
: Tsukiyomi
Spoiler:
Usage
: almost instant, but seems like three days to the user and target
Cool Down
: Five Posts
Technique
: Black Cero
Spoiler:
Usage
: One Topic
Cool Down
: One Topic